In 3D printing, there is a delay in applying pressure to the material until it is extruded. This can cause the nozzle to extrude too much or too little material if there is no pressure advance mechanism in place. During acceleration (commonly seen at the start of printing or when making turns), pressure advance leads to an increase in nozzle pressure. During deceleration (commonly seen before making turns), pressure advance leads to a decrease in nozzle pressure. This mechanism ensures that the nozzle expels a consistent amount of material between each printing point.
We can enable pressure advance as indicated in the diagram below.


There are some recommended pressure advance settings for common filament.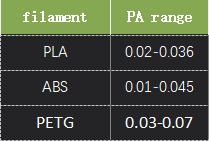 First, we recommend that you use the pressure advance values shown above as the basis for your initial print. If it still does not work well, we recommend that you fine-tune the values provided in the chart above and then experiment to find the most appropriate value.